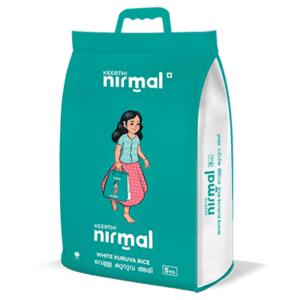 Kuruva is a natural and traditional rice variety from Wayanad in Kerala, which is a widely used rice in Kerala. It has more fibre, more protein and a lot of healthy nutrients. Kuruva rice is rich in selenium which reduces the risk for developing common illnesses such as cancer, heart disease and arthritis.
This parboiled rice known as Kuruva Rice is a specialty of Keerthi Nirmal. This process of soaking, pressure steaming, drying, and milling is done in excellent manufacturing facilities.
On cooking, Keerthi Nirmal Kuruva Rice gives a strong aroma, good taste and softness. The elongation ratio is about double and can be identified with no thickness in width on cooking.
Process: For this item while soaking the paddy steam will be applied 10 to 15 minutes only for reducing the cooking time.
Speciality: The cooking time will be 40 to 45 minutes.
Brand USP
Origin: TN&AP
Finest Short Grain
Silk Touch
Finest Short Grain having an average length of 8.3mm
Width 1.62mm
Colour: White
Available Sizes: 5kg, 10kg, 25kg, 50kg
Polyethylene Packet